How it works
Milliman GASBhelp™ is for eligible small public employers that use the GASB 75 Alternative Measurement Method (AMM).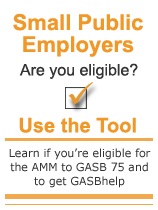 Learn if you're eligible — at no cost
Use our free eligibility tool to review your plan, identify if it includes fewer than 100 members, and consider other factors to determine eligibility for the GASB 75 AMM and GASBhelp.
Eligible small employers can gain complete access to GASBhelp for a fraction of the cost of a traditional actuarial valuation. Discount codes are also available for group purchasing arrangements; for information, contact Milliman and provide the entity names and number of plan members for each.
Use GASBhelp's streamlined method
GASBhelp uses the streamlined GASB 75 AMM, presenting easy-to-answer questions and step-by-step guidance. The entire process takes approximately 90 minutes to 4 hours, depending on the complexity of the employer's plan. You simply provide information about your Other (than pension) Post-employee Benefit (OPEB) plan components, contribution strategies, and eligible beneficiaries. Results are immediate and include a comprehensive report with all the information needed to comply with GASB 75. You can also access your results to edit and experiment with different scenarios for up to two years at no additional charge.
GASBhelp provides helpful background information on nearly every screen, while the Web site provides answers to commonly asked questions, GASB-related glossary terms, articles, and educational materials. Milliman GASB experts and actuaries are also available to answer your questions via phone or e-mail.